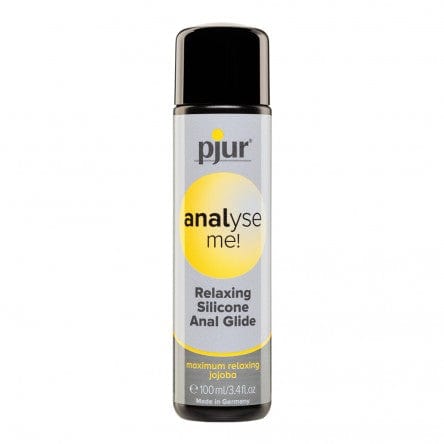 Pjur Analyse me! Relaxing - Silicone-Based Personal Lubricant for Comfortable Anal Sex - Extra-Long Lubrication (100ml)
About this item
SILICONE-BASED PERSONAL LUBRICANT FOR COMFORTABLE ANAL SEX - Silicone-based anal personal lubricant (100 ml) for comfortable anal sex for men and women. Jojoba relaxes the anal muscle while the premium silicone ensures extra-long-lasting lubrication.
WITH RELAXING JOJOBA - Its soothing and nurturing properties have a positive effect on sensitive anal mucous membranes and can make the skin noticeably soft and smooth.
SPECIALLY FOR ANAL SEX - This personal lubricant is designed specifically for anal sex. It is made without perfume, added flavours or preservatives. Skin compatibility dermatologically tested.
COMPATIBLE WITH CONDOMS - This personal lubricant is free from oil and fat and compatible with condoms (latex condoms). Leaving you free to enjoy unfettered anal sex.
100% MADE IN GERMANY - The pjur name has been a byword for reliability, safety and »Made in Germany« since 1995. pjur's vision is to improve the love lives and quality of life of people the world over.
Product description
We have developed pjur analyse me! glide specially for relaxing anal intercourse. The silicone formula with high grade jojoba extracts was developed specially for use and relaxed enjoyment in anal intercourse. Jojoba is a natural ingredient that softens and moisturizes the skin, making it soft and smooth, thereby relaxing the sphincter, and creating a silky smooth feeling without any desensitizing effect. pjur analyse me! RELAXING anal glide is a particularly long-lasting lubricant that is very pleasant to use, making anal intercourse an enjoyable experience for relaxing fun for both partners.
Compatible with latex condoms.
Specially for comfortable anal sex

With natural, relaxing jojoba

Extra glideable
For even greater enjoyment, we recommend combining this product with pjur analyse me! Anal Comfort Spray.
Ingredients
Dimethicone, Dimethiconol, Simmondsia Chinensis (Jojoba) Seed Oil, Amyris Balsamifera Bark Oil
Shipping
Yes, the seller name displayed is G.S Marketing, and we
even change the phone number to prevent nosy co-workers or family members from
looking up what you have bought. Additionally, we use black plastic, plastic
wrap, and bubble wrap to further ensure that the contents of the package are
not visible. That's why we are here - to strive to protect your privacy and
keep your purchases confidential."
Free Shipping for order above RM50.
For orders below RM50, RM5.9 shipping will be charged at checkout.
International rates vary—find out at checkout
For ready stock item, it will take 1-3 working days to arrive to your doorstep.
For pre-order item, might take up to 7-9 days .
*Subject to courier
Warranty
For brands like Lovense, Womanizer , Lelo we do provide up to 365 days of warranty after the date of purchase.
For other brand's product is up to 180 days after the date of purchase.
To claim the warranty, please reach out to one of our
customer representatives using the WhatsApp logo located at the bottom right
corner of the page, or send us an email. Our representatives will then guide
you through the necessary steps
Ordering
Inside your xsecret.my account, click on "Order History" in the top right corner to review all your favourite items!
As soon as your order has shipped, we'll notify you by email providing you with the tracking information for your package!We ship via J&T and Poslaju by default. please track using : https://www.tracking.my/
Should the need arise to cancel an order after you've placed it, we will do our best to accommodate your request. Please be aware that order cancellation is a time-sensitive action, so please do get in touch with our team as soon as possible.
Other
Please do reach out to our number or email for further details.
Email: admin@xsecret.my
Phone number: +60106673980