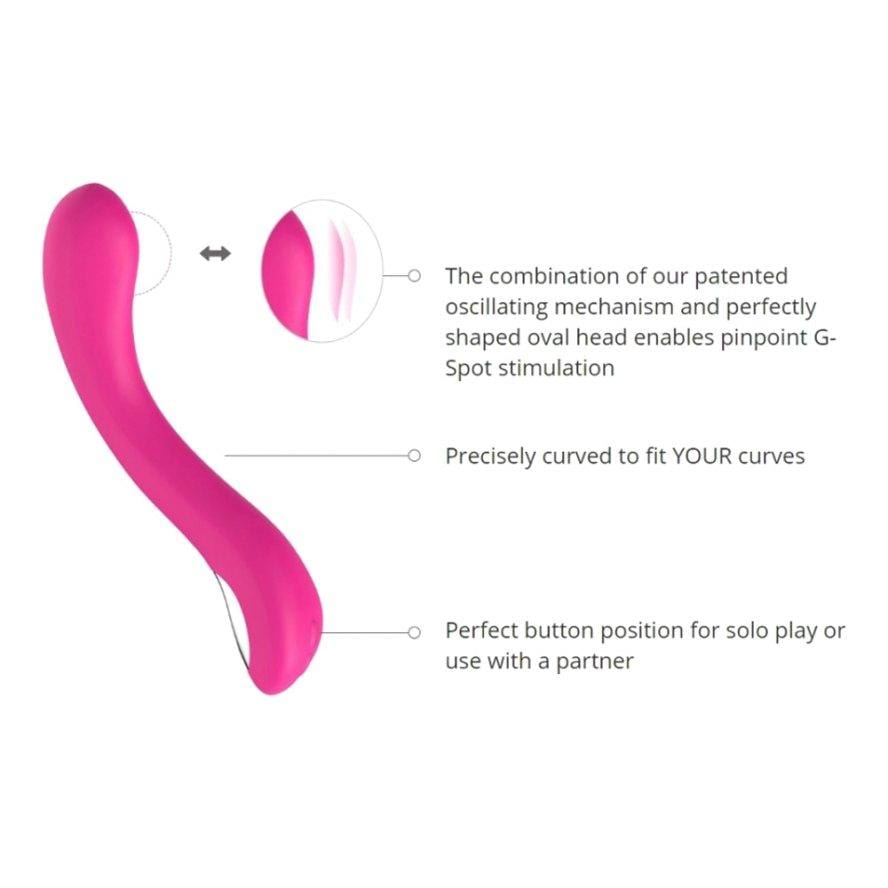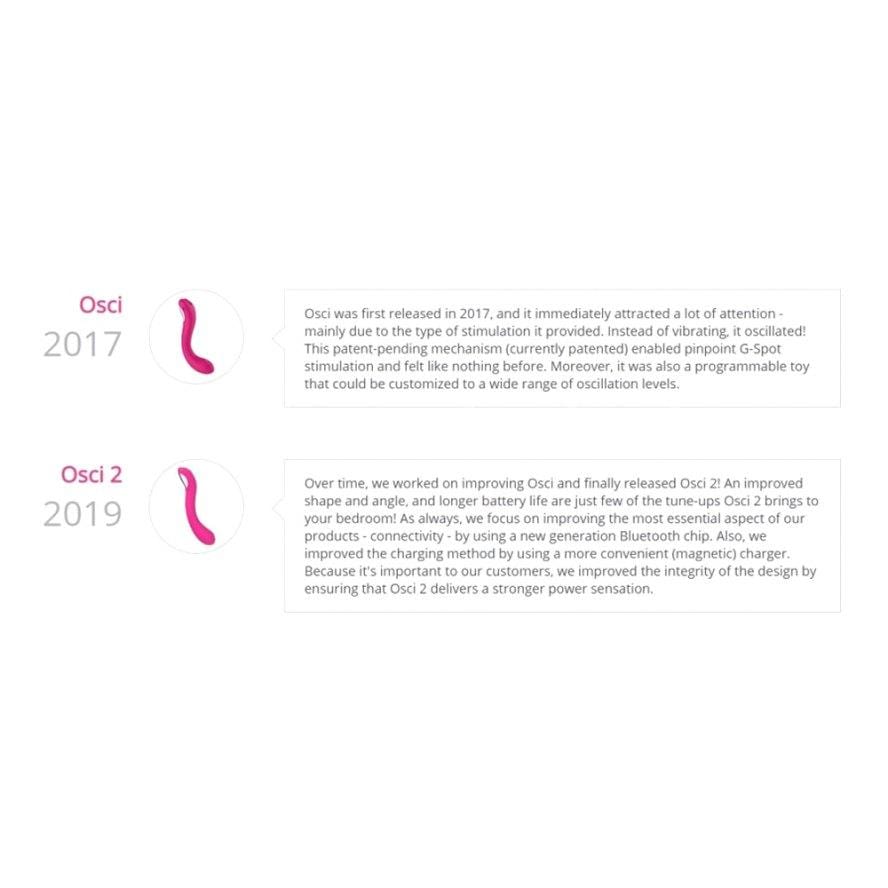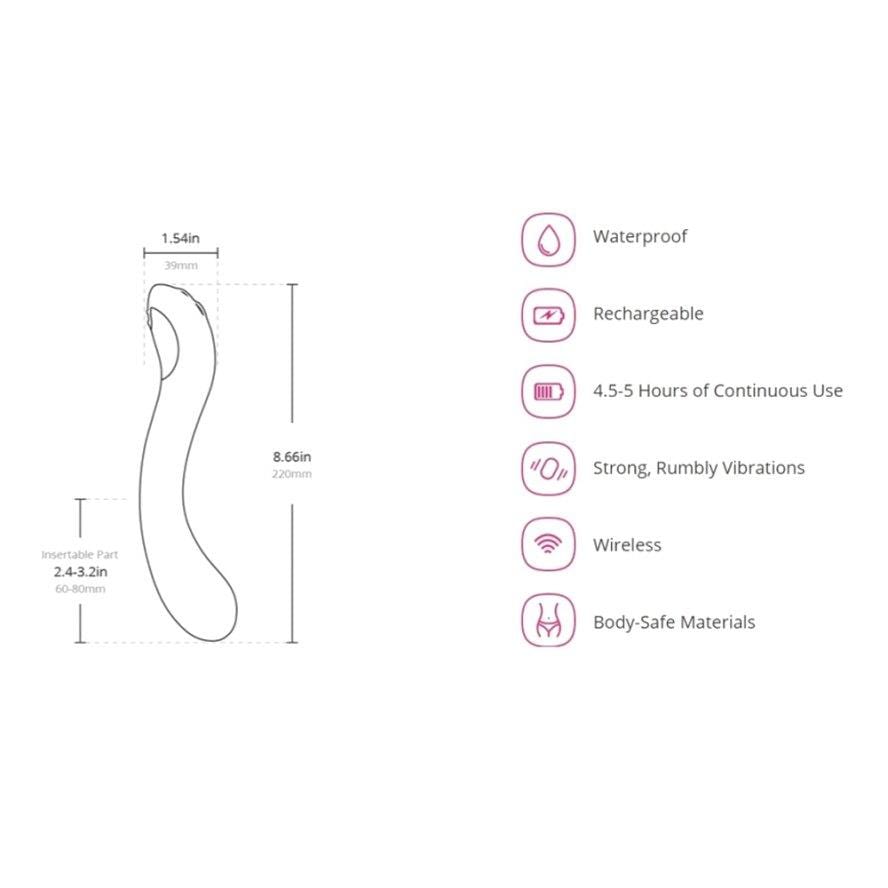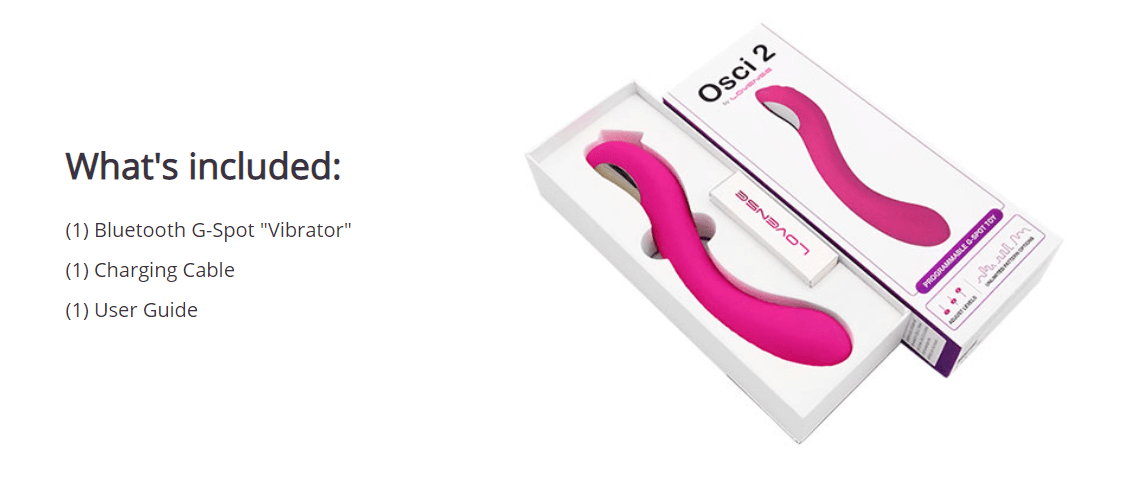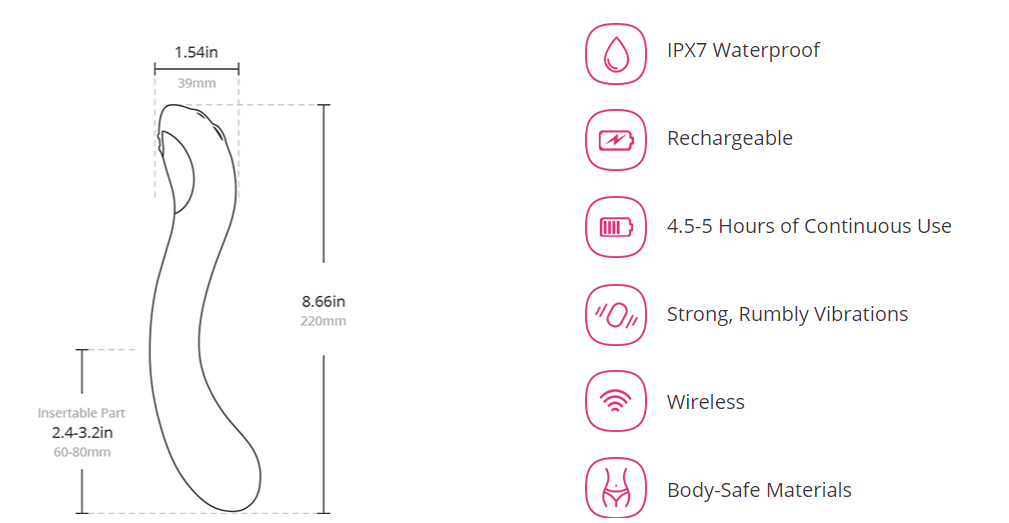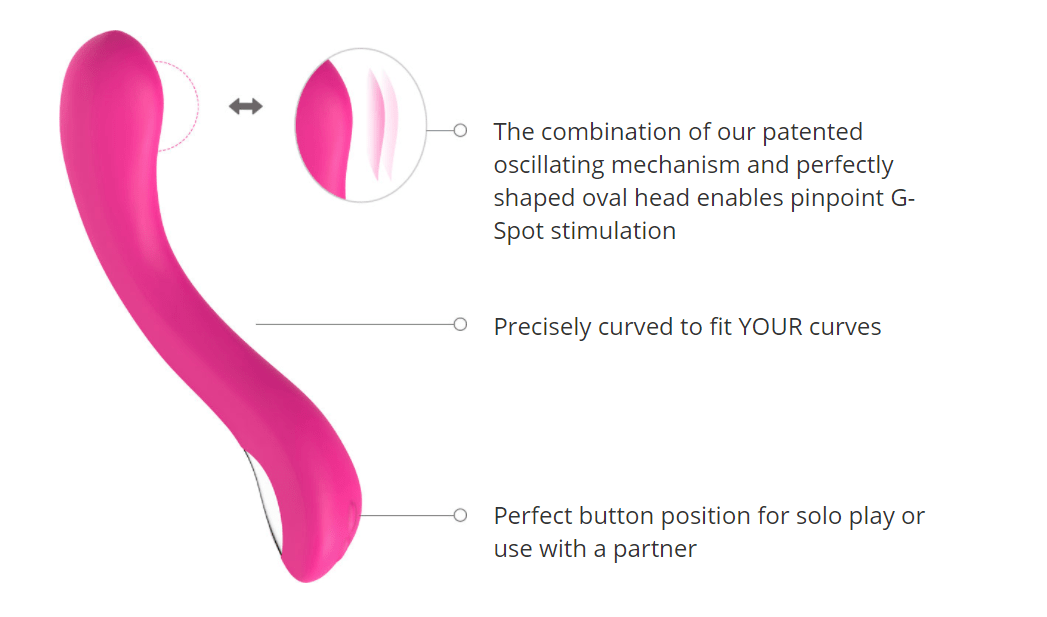 Lovense - Osci 2 App Controlled Oscillating G Spot Vibrator Sucking Vibrator sex toys for her
Osci 2The World's First
Oscillating G-Spot Toy.
More Powerful Motor - Stronger Stimulation
Instead of vibrating like other traditional toys, our toy has a patented oscillating feature that moves the vibrations in and out - pleasuring your G-Spot in ways you've never imagined. The oval head also delivers unique and powerful stimulation.

Carefully Designed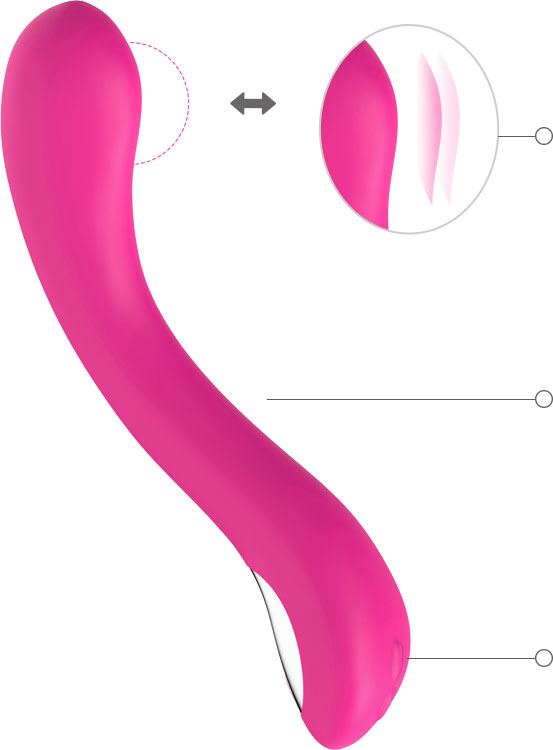 The combination of our patented oscillating mechanism and perfectly shaped oval head enables pinpoint G-Spot stimulation
Precisely curved to fit YOUR curves
Perfect button position for solo play or use with a partner
Fully Adjustable
Osci 2 is a part of our Programmables line, which allows users to reset their toy's button cycle with 3 personalized vibration levels and up to 10 patterns using our app.
Compatible With:
 

iPhone/iPad Air/iPad Mini/iPod Touch iOS 10.0 and later

 

Android 4.3 and later (with Bluetooth 4.0 enabled)

 

Mac (with Bluetooth 4.0 enabled)
Key Features:

- The longest control range out of all wearable bluetooth vibrators!
- 4x more powerful than most vibrating prostate massager
- Adjustable head ensures it hits the right spot for most men
- One Year Warranty , Body Safe Silicone Material , Waterproof- One Year Warranty , Body Safe Silicone Material , Waterproof
Osci 2世界首款顶压震动
G点震荡棒
与其他传统玩具的震动不同,我们的专利技术能让马达反复进出顶压,赋予您无法想象的G点快感。同时,椭圆形的棒身还可以带来独特又强烈的刺激。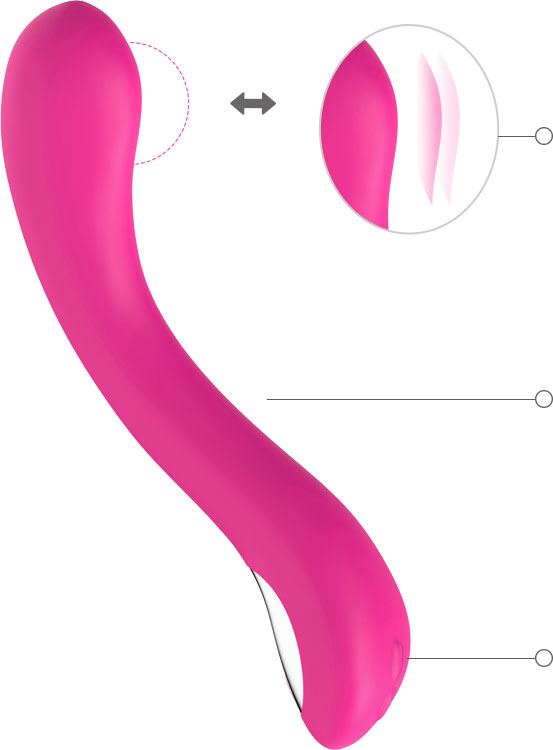 专利震荡冲击技术与完美的椭圆形棒身相结合,带来精准的顶压快感
完全符合人体曲线的手柄角度
完美的按键位置,轻松适应单人游戏或伴侣控制
Osci 2是我们可编程产品中的一员,您可以使用我们的App自定义三个按键对应的强度等级和多达10个完全自定义的震荡冲击模式,并将他们存储到Osci 2中。
与以下设备兼容:
 

iPhone/iPad Air/iPad Mini/iPod Touch (需要iOS10.0及更新版本)

 

安卓设备(Android 4.30及更新版本,需要启用蓝牙4.0)

 

苹果 Mac电脑 (需要启用蓝牙4.0)
IPX7 防水设计
可充电
4.5-5小时续航
强力震动
无线控制
亲肤材料
Shipping
Yes, the seller name displayed is G.S Marketing, and we
even change the phone number to prevent nosy co-workers or family members from
looking up what you have bought. Additionally, we use black plastic, plastic
wrap, and bubble wrap to further ensure that the contents of the package are
not visible. That's why we are here - to strive to protect your privacy and
keep your purchases confidential."
Free Shipping for order above RM50.
For orders below RM50, RM5.9 shipping will be charged at checkout.
International rates vary—find out at checkout
For ready stock item, it will take 1-3 working days to arrive to your doorstep.
For pre-order item, might take up to 7-9 days .
*Subject to courier
Warranty
For brands like Lovense, Womanizer , Lelo we do provide up to 365 days of warranty after the date of purchase.
For other brand's product is up to 180 days after the date of purchase.
To claim the warranty, please reach out to one of our
customer representatives using the WhatsApp logo located at the bottom right
corner of the page, or send us an email. Our representatives will then guide
you through the necessary steps
Ordering
Inside your xsecret.my account, click on "Order History" in the top right corner to review all your favourite items!
As soon as your order has shipped, we'll notify you by email providing you with the tracking information for your package!We ship via J&T and Poslaju by default. please track using : https://www.tracking.my/
Should the need arise to cancel an order after you've placed it, we will do our best to accommodate your request. Please be aware that order cancellation is a time-sensitive action, so please do get in touch with our team as soon as possible.
Other
Please do reach out to our number or email for further details.
Email: admin@xsecret.my
Phone number: +60106673980