LOVENSE EDGE  2 - The World's First Adjustable Angle Prostate Massager
App Vibration Control Opens Up a World of Possibilities! Its adjustable head ensures it hits the right spot for most men. Dual vibrators stimulate both the prostate and perineum and we made sure all of our toys have very powerful vibrations. Optimized neck to enable hands-free fun and It stays put during sex.
Our free app gives you control over the entire range of power levels. Whether you crave light or strong vibes, you will always find your sweet spot. Decide how you want to have it played out, Solo play, Fore Play, even Discreet Public Play with our Lovense App and Bluetooth Enable Device.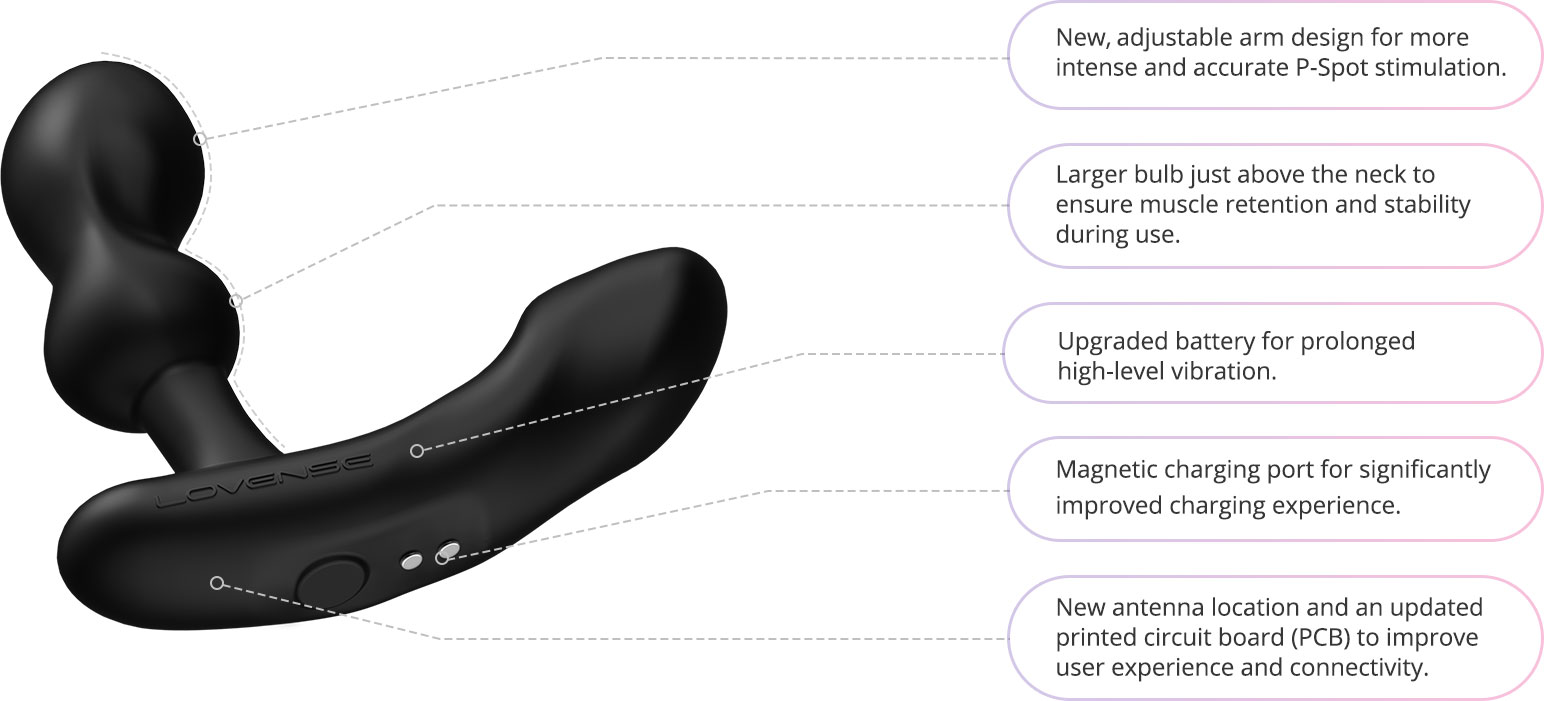 Introducing the latest Lovense Edge 2 - The year 2021 version! This time it's better with the upgraded designs having for a better and comfortable fit.
Edge 2 has quite a few tweaks to make it even more attractive than before. A magnetic charging port makes the charging process a smoother experience. To further the advantages of the adjustable and insertable arm, Lovense has updated Edge 2's design by making a bigger bulb just above the neck; which provides more stability and even stronger P-Spot stimulation. The upgraded battery will allow users to enjoy prolonged, strongest level vibrations. You don't want to miss out on this experience!
Key Features
- Body-safe silicone
- Adjustable head to ensures that most men hit the right spots
- Longer and thinner neck and enlarged bulb for longer toy retention
- whisper-quiet vibrators for maximum pleasure.
- USB Rechargeable
- Up to 1.7 Hours of Continuous Use
- 100% waterproof with IPX7
| | |
| --- | --- |
| Additional Information | Material Silicone Waterproof Submersible Power Type Rechargeable with USB Charger Functions Bluetooth APP Control Vibrating Prostate Massager Vibration speed Speeds and patterns Total Length 12.4cm Insertable/Usable Length 9.1cm Width/Diameter 3.5cm Condom safe Yes Lubricant type Water-Based |
EDGE2 - 世界上首款可调节的前列腺按摩器
击中你的"点"
有哪些新升级?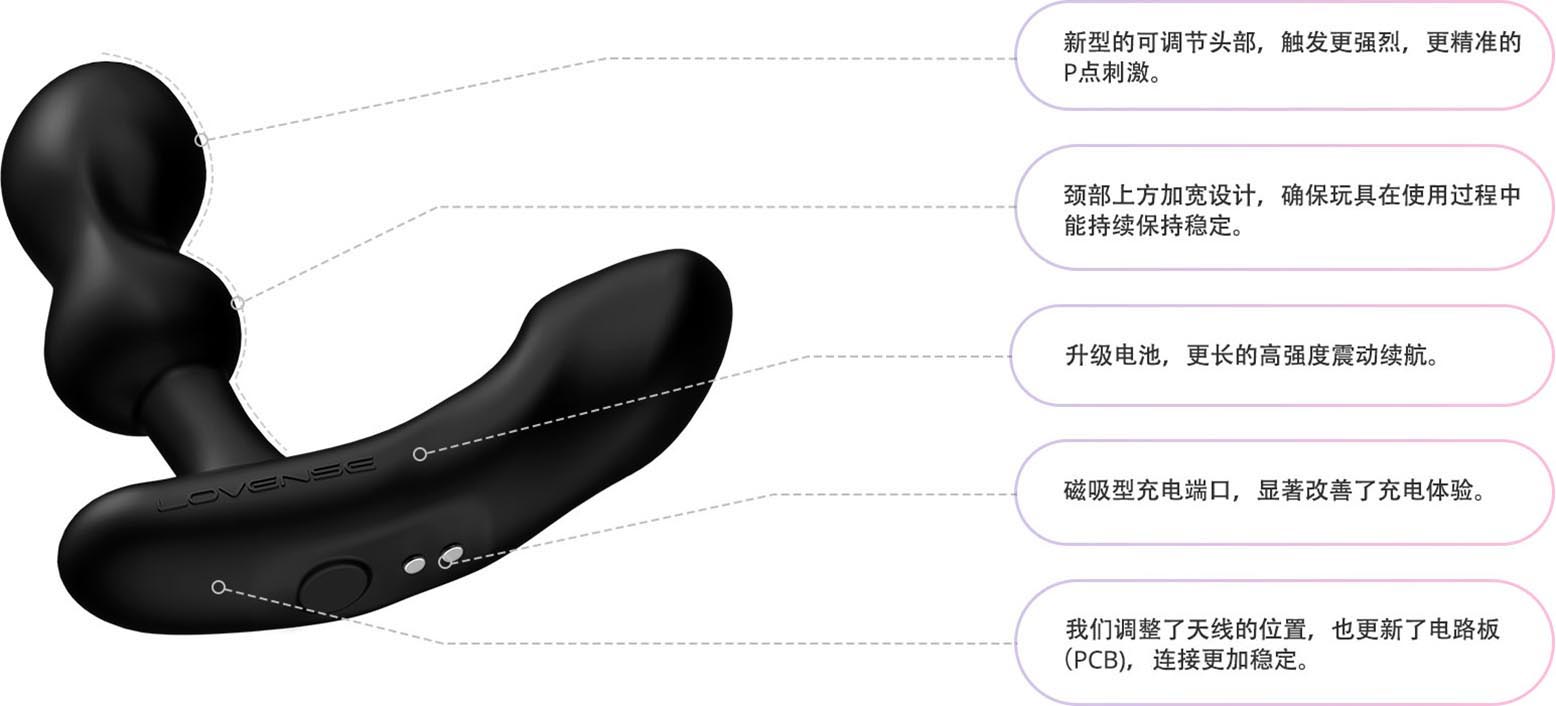 智能操控,打开新世界的大门!
自己玩 , 爱侣前戏, 隐秘控制
为前列腺高潮而生!
1. 可调节角度,精准刺激大多数男性的敏感点。调整适合角度后,可稳定的保持。
2. 修长的颈部和上方加宽的设计,带来更好的稳定性。
3. 双重静音马达,带来极致乐趣。
1年保修期
怪兽级强震马达!
我们总是确保我们所有的玩具都有强劲的震动力。
Edge 2也毫不例外。你一定会非常享受它强大的双马达设计!
我们免费的智能app提供完整的震动强度控制。无论是喜欢轻柔爱抚,还是勇猛粗暴,你总能找到最适合你的高潮点。
为每个人带来前列腺高潮!
无论是后庭新手还是资深玩家!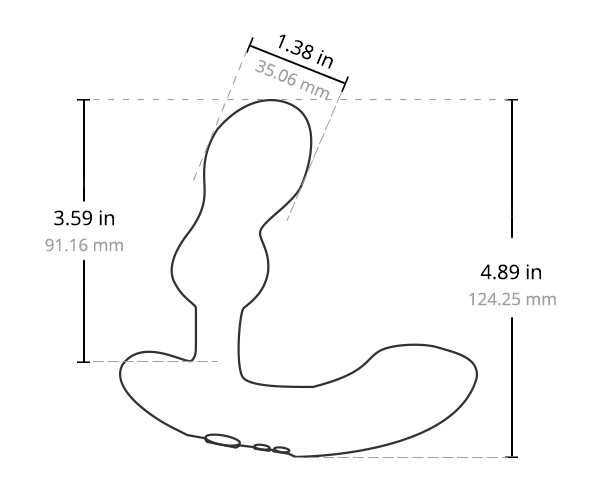 全面兼容安卓和苹果手机
与以下设备兼容:
 

iPhone/iPad Air/iPad Mini/iPod Touch (需要iOS10.0及更新版本)

 

安卓设备(Android 4.30及更新版本,需要启用蓝牙4.0)

 

苹果 Mac电脑 (需要启用蓝牙4.0)
Shipping
Yes, the seller name displayed is G.S Marketing, and we
even change the phone number to prevent nosy co-workers or family members from
looking up what you have bought. Additionally, we use black plastic, plastic
wrap, and bubble wrap to further ensure that the contents of the package are
not visible. That's why we are here - to strive to protect your privacy and
keep your purchases confidential."
Free Shipping for order above RM50.
For orders below RM50, RM5.9 shipping will be charged at checkout.
International rates vary—find out at checkout
For ready stock item, it will take 1-3 working days to arrive to your doorstep.
For pre-order item, might take up to 7-9 days .
*Subject to courier
Warranty
For brands like Lovense, Womanizer , Lelo we do provide up to 365 days of warranty after the date of purchase.
For other brand's product is up to 180 days after the date of purchase.
To claim the warranty, please reach out to one of our
customer representatives using the WhatsApp logo located at the bottom right
corner of the page, or send us an email. Our representatives will then guide
you through the necessary steps
Ordering
Inside your xsecret.my account, click on "Order History" in the top right corner to review all your favourite items!
As soon as your order has shipped, we'll notify you by email providing you with the tracking information for your package!We ship via J&T and Poslaju by default. please track using : https://www.tracking.my/
Should the need arise to cancel an order after you've placed it, we will do our best to accommodate your request. Please be aware that order cancellation is a time-sensitive action, so please do get in touch with our team as soon as possible.
Other
Please do reach out to our number or email for further details.
Email: admin@xsecret.my
Phone number: +60106673980